In his book Against the Gods, Peter L. Bernstein proposes that the success of human ingenuity in modern times is the result of the mastery of risk. The mix of science and art practiced by financial planners is an advanced form of what has driven intellectual development from the explosion of technological, cultural and societal progress in the 17th century during the Enlightenment: 'The revolutionary idea that defines the boundary between modern times and the past is the mastery of risk'.
Modern stochastic techniques can rightfully (in our view) claim to be full expressions of what has evolved since 1654 when Pascal first introduced the concept of probability as a means of solving problems. Modern students of investment may be more familiar with Nobel Laureate Harry Markowitz, whose mathematical insights produced Portfolio Theory with its Efficient Frontier and explained the enormous benefits of diversification.
Modern investment strategies also capture another pivotal idea from the 18th century. Swiss mathematician Daniel Bernoulli wrote a paper identifying the concept of 'utility' where 'the value of an item must not be based on its price, but on the utility that it yields'. Subjectivity is as important a part of decision making and risk assessment as probability. Even though outcomes can be predicted, different people value different outcomes. Investors may or may not be comfortable taking on investment risk, based on subjective considerations, usually relating to their existing financial circumstances or their aspirations to grow wealth. In short, this is the familiar territory of advisers undertaking psychometric questionnaires with clients.
In our industry, there is a growing realisation that forward-looking techniques seeking to describe the universe of 'viable' investment outcomes provides a more reliable methodology for managing investment risk than more traditional analysis predicated on historical returns, including historical volatility.
The kind of mathematical analysis referenced above is generated by a stochastic engine comprising rules that describe the behaviour and inter-relation of the constituents of the model (for example interest rates or asset class growth rates), coupled with powerful simulation, creating thousands of viable outcomes.
It is very difficult to predict the outcome of an investment in the short term, but in the longer term, the power of probability kicks in and we can predict much more accurately. It is a similar explanation as to why a dice may have 1 out of 6 outcomes in a throw, meaning the next throw is impossible to predict. However, throw a dice 10,000 times and the outcome can be predicted with certainty.
Risk, MiFID II and the advice process
Having a well-structured approach to risk profiling and managing investment risk is no longer optional in the MiFID environment. With this concept at the forefront of our minds, we have written and posted a white paper, Creating better outcomes in financial planning by optimising investment risk and reward using stochastic modelling, available on the Synaptic website. The purpose of this paper is to provide insight into the mechanics of risk and return, on the premise that improved management of investment risk with clients can be delivered through an effective, modern investment strategy, including building an efficient frontier using 'Value at Risk' measure (VAR, rather than volatility).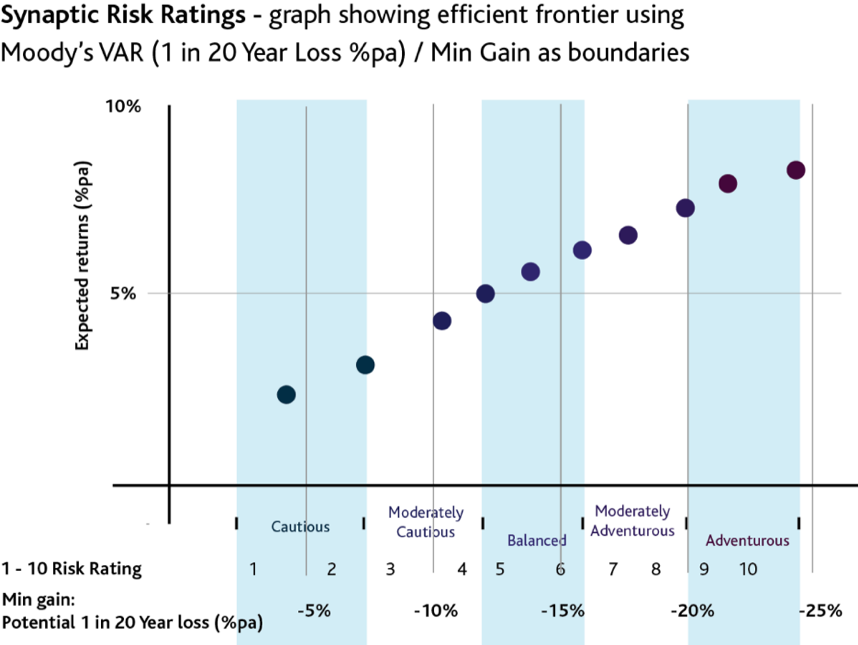 The real challenge for many advisers is that MiFID II has introduced the concept of ex-ante and ex-post research, meaning that full suitability must be established in advance of a transaction and at every review.
If you have any concerns about your firm's ability to meet the challenges of MiFID II, risk and proof of Suitability, consider adopting the Synaptic Risk Ratings. You can use the Attitude to Risk Questionnaire, Investment Strategy and Risk Ratings 1-5 and 1-10 free of charge.
To download your copy of the new White Paper, or to get started with Synaptic's free risk ratings tools, visit www.synaptic.co.uk/risk
• About Synaptic Software
Synaptic Software provides research and due diligence software to financial advisers and brokers. These tools range from risk and product selection through to analysis of charges, and will assist you in evidencing your expertise for the benefit of clients and compliance purposes.
Synaptic Software Limited:   This email address is being protected from spambots. You need JavaScript enabled to view it.   0800 783 4477   www.synaptic.co.uk