According to SunLife's annual Cash Happy report, which looked at 3,000 UK households, the increasing popularity of digital apps has seen the number of over-50s using them for serious budgeting purposes rising from 35% to 38%.
The research found that one in nine (11%) over-50s use online tools or apps to budget, a significant increase from the one in 12 figure (8%) seen in 2016, and one in 25 (4%) in 2015. Budgeting 'by hand' using a notebok is down to one in seven from one in six in 2016 and 2015.
Using an Excel spreadsheet on a PC or laptop remains the most popular method, with one in five (20%) over 50s saying they use a spreadsheet to keep on top of their incomings and outgoings, slightly up on last year (17%) but the same as 2015.
The research also found that over 50s are checking their accounts more regularly due to the use of apps. The data revealed that one in five over 50s check their bank accounts daily – up from one in seven last year.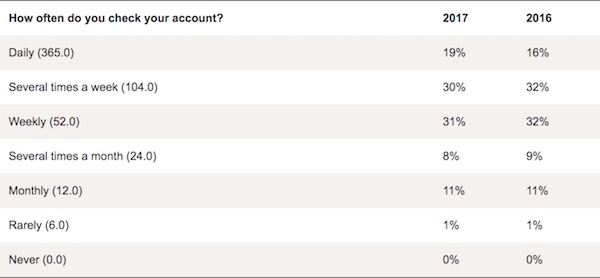 Half budget informally and 5% do no budgeting at all.
Ian Atkinson, marketing director at SunLife said: "It is great to see people in their 50s, 60s and 70s embracing technology more and choosing to use online tools and phone apps to manage their money.
"It actually supports our Big 50 research which shows 86% of over-50s use the internet for at least eight hours a week, with more than two thirds of those online 15 hours or more each week.
"The Cash Happy data also shows that eight in ten over-50s now check their accounts at least weekly, with a quarter of those checking every day, suggesting that over-50s are making use of online technology to ensure they have the latest info on their financial situation, rather than waiting for monthly statements from bank."