The bans are down from 25 people who received Prohibition Orders from the FCA in 2015/16.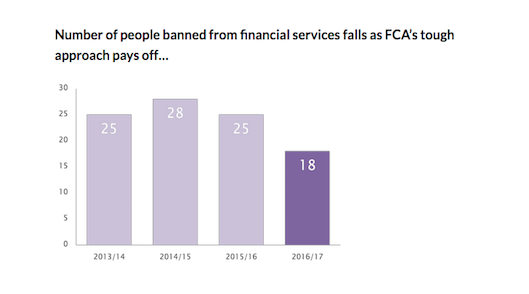 Prohibition Orders peaked at more than 70 per year during the financial crisis.
The ban should not be seen as leniency on the part of the FCA rather "the result of significant toughening of the regulators approach to misconduct," said the firm.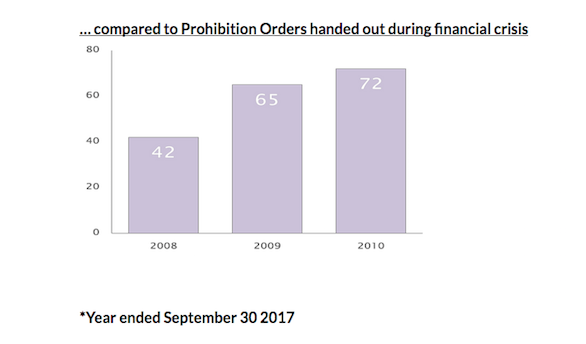 Richard Burger, partner at RPC said: "The sector should not mistake the fall in Prohibition Orders as the FCA starting to go soft; the regulator will not hesitate to ban individuals if it uncovers misconduct."
"The FCA has made it clear that senior individuals are now responsible for misconduct in their firms, and it looks like the loud voicing of that threat is now paying dividends. The FCA will hope to see a far-reaching change in behaviour in the financial services sector as the Senior Managers and Certification Regime extends across all parts of the sector next year.
"The new SMCR will put many more individuals working in Financial Services onto the FCA's radar. The FCA's 'constructive deterrence' business plan relies on holding virtually everyone, not just senior managers, to account. SMCR and its conduct rules will cover most financial services staff in some way.
"We may well see more behavioural change next year as the Senior Managers Regime is extended to almost the entire sector."
Mr Burger added that the RPC found the number of 'dawn raids' by the FCA also decreased to a nine-year low in 2016, proving that the financial regulatory body's approach of punishing individuals rather that institutions is causing a change in behaviour in financial services.