According to the FPSB, owner of the certification programme outside the US, another 15,726 CFPs were added to the global ranks last year.
This equated to a net increase of 5,472 CFP professionals and annual growth of 3.2%.
The UK had 933 CFPs, putting it 17th on the world list, behind countries such as France, Germany and the Netherlands.
Noel Maye, chief executive of FPSB, said: "To establish Financial Planning as a recognised global profession, FPSB has set itself an ambitious goal to have 250,000 CFP professionals in 40 territories by 2025.
"With a global CFP professional growth rate of 3.2% last year within the FPSB network, and talks underway in over 10 additional territories, FPSB is making solid progress in its efforts to increase the public's access to competent and ethical financial planners, who work in their clients' interest."
Graphics courtesy of www.FPSB.org.uk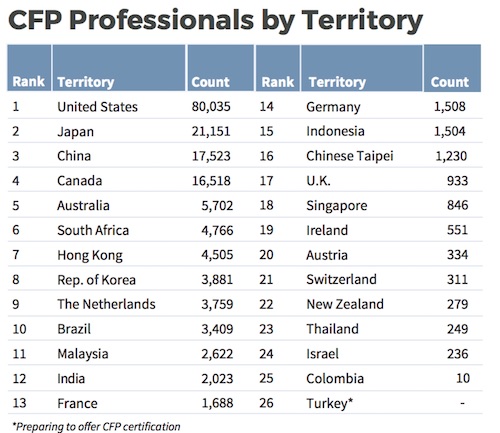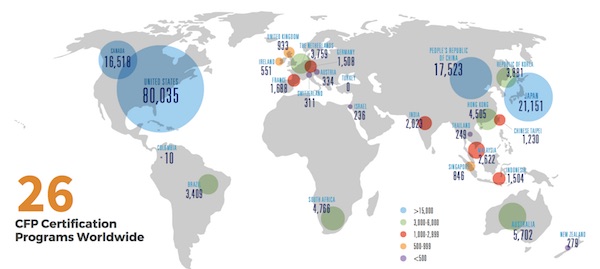 There was "considerable growth" in the United States, which boasts the longest running CFP certification programme – with a net growth of 3,275 CFP professionals last year (accounting for 60% of the net global growth). There are more than 80,000 CFP Professionals in the US.
FPSB's member organisations in China, Brazil and Japan added 645, 490 and 468 CFP professionals respectively by the end of last year. This worked out as 30% of global growth when combined.
FPSB's largest member organisation in Brazil remained "a standout performer" for the fourth year in a row with both net growth of 490 new CFP professionals and a rate of growth 16.8%.
Chinese Taipei (Taiwan) added 247 net - growth of 25.1% - while Ireland and Thailand gained 77 and 68, increases of 16.2% and 37.6% respectively over the previous year.