The Bristol-based firm says the new corporate identity marks an evolution for the firm and will help pave the way for further expansion of its services and help its 1m-plus customers navigate quicker through its apps and website.
The new look includes a new company logo, a refreshed website and app redesigns making them "faster, simpler and more accessible." New fonts are being used throughout which are larger and easier to read, says the firm.
New Logo:

Old style for website is below: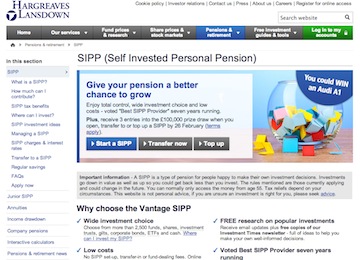 Chris Worle, digital strategy director, Hargreaves Lansdown, said: "In December we celebrated welcoming our one millionth client and it's clear that the needs of our audience have never been more diverse.
"Our clients still enjoy the reassurance that comes with speaking to one of us directly, whenever they need to. But a lot has changed over the last three decades. People are interacting with us in new ways, increasingly choosing digital and mobile channels so it's essential we continue to adapt and innovate to stay ahead.
"This evolving of our identity provides a more relevant experience for our clients: giving guidance and help when it's needed, in a language they understand. It reflects the importance of what we do for our clients: the passion we have for putting our clients first, making it easy and always striving to do things better. Our purpose remains the same: to empower people to save and invest with confidence."
The company says the new corporate identity will also help the company stand out in a "crowded market." The company also plans to expand its services in the coming years and says the new identity will help it prepare for its news phase of growth.
Hargreaves Lansdown was set up by founders Peter Hargreaves and Stephen Lansdown in a spare room 35 years ago. It now manages £86 billion in funds for 1,015,000 clients. It employs more than 1,000 people.