The Xafinity Transfer Value Index fell steadily from £236,000 at the end of December to £231,000 at the end of January.
Sankar Mahalingham, head of DB growth at Xafinity Punter Southall, said: "Increases in gilt yields have been the main driver, with inflation remaining relatively stable."
Graph below courtesy of Xafinity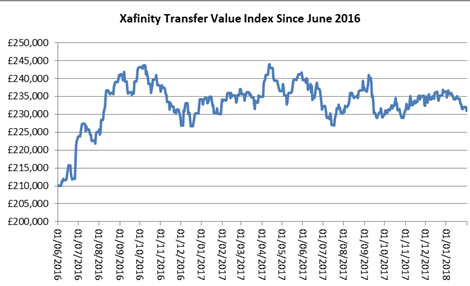 The difference between maximum and minimum readings of the index over January 2018 was £6,000 or around 2.4%, Xafinity said in a statement.
The Xafinity Transfer Value Index tracks the transfer value that would be provided by an example DB scheme to a member aged 64 who is currently entitled to a pension of £10,000 each year starting at age 65 (increasing each year in line with inflation).
Different schemes calculate transfer values in different ways. A given individual may therefore receive a transfer value from their scheme that is significantly different from that quoted by the Xafinity Transfer Value Index.