For the majority, staying out of debt was the key financial motivation, but that was of less concern for the younger generation which cited travel and holidays and wanting to be rich as more important.
A secure and comfortable retirement only becomes the top financial priority for those aged 55-64, the research found. 

This was despite the data also showing that the majority of the population (52%) believed that saving towards retirement should start when people are in their 20s.
This is most acutely felt among those imminently facing retirement, with 64% of people aged 55-64 believing saving should start in the 20s.
However, at the other end of the age scale, being able to afford regular holidays is seen as the top priority for the 18-24 bracket, followed by the desire to socialise in bars and restaurants.
The research also highlighted just how important leisure time is for British people across all ages.
While travelling and affording holidays is only the very top priority for the younger generation, it was listed in the top three financial motivations across every single age group.
Priorities also differ between the sexes, with men more likely to consider their retirement a priority, while for woman staying out of debt is the primary concern. Women were also more likely to see holidays as a key motivation than men. However, twice as many men as women expressed a desire to be rich.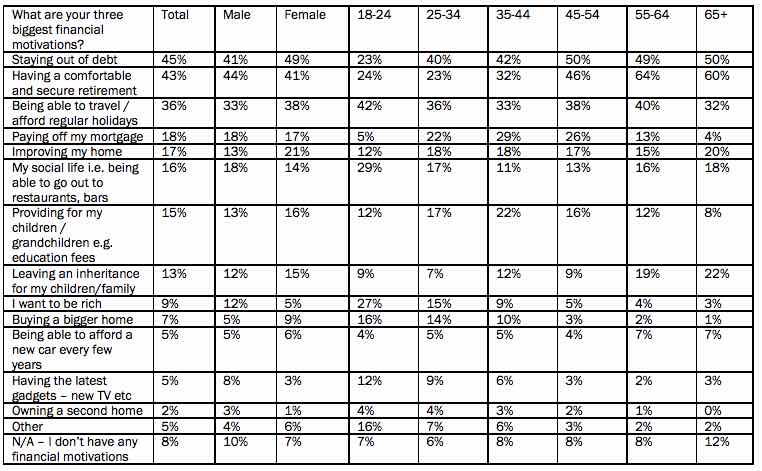 Jason Hollands, managing director of Tilney, said: "The research really highlights just how much our priorities change over a lifetime.
"The younger generation seems financially aspirational, seeing the world as their oyster and wanting strike gold and be 'rich'.
"However, this ebbs away rapidly as working life kicks in and the main priority becomes simply staying out of debt."
He added: "Saving for a comfortable retirement is consistently seen as a key priority and more so as people age.
"However, it only becomes a top priority for us when we reach 55, a point at which it becomes harder to take the necessary steps to achieve this because the early you start saving for retirement, the better.
"One thing that seems to be in common across all the age groups, however, is the desire to travel and take regular holidays. In this current low wage growth environment, it is reassuring to see that Brits are still retaining their sense of adventure and enjoying their leisure time to the full."