Chartered Financial Planner Nicola Watts, wealth manager at Jane Smith Financial Planning in Bucks, spoke exclusively to Financial Planning Today magazine and features in the latest issue.
She reveals how she found her first clients, talks about the types of clients she looks for and shares tips on finding new ones.
Commenting on retaining clients she said: "Many of our clients are long-standing, some having been looked after by either myself, or my mother before me for more than 20 years.
"Service is key; our clients expect a lot from us, but equally we aim to exceed those expectations.
"We don't adhere to prescriptive deadlines and workflow targets – we just get on with things and where there are problems, we sort them, whatever it takes.
"Central to our service is that our clients are real people and not just numbers – they value a personal service.
"They like the fact that not only do I know and understand what they are looking to achieve, but also that every member of the team is helping them towards those objectives.
"Although well-educated, our clients appreciate value and are prepared to pay for advice.
"Most clients are not interested in the technical detail and like my common sense and jargon-free approach."
Asked about the most important lessons she has learned along the way Ms Watts said: "Right from the outset you need to look for the sort of clients that will value ongoing advice and Financial Planning and position yourself accordingly.
"A key turning point was getting clear in my own head the true value of Financial Planning and how it could be charged for in complete isolation from product implementation.
"Without charging for this process, it appears to have no value to the client and then they don't necessarily see the value of it moving forward once implementation has been completed.
"Getting the marketing and branding right is as much about filtering out these sorts of clients as it is about attracting the right clients.
"In terms of keeping clients, it's all about delivering what we promise – a clear Financial Plan with clear action points.
"A strict diary system and a team of excellent 'naggers' helps to make sure things get done."
The full interview can be read in the latest issue of Financial Planning Today magazine which is available to read online now.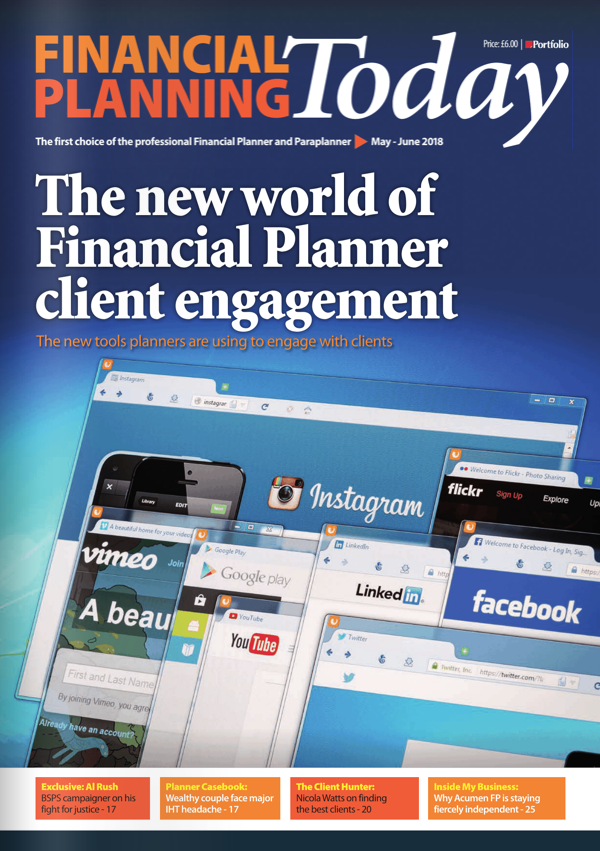 Other key features in the latest issue include:

• Stories about MoneySavingExpert.com founder Martin Lewis' legal battle with Facebook, details of a financial adviser jailed for sexual assault and more. 
• Planner Casebook - Mike Walker, of Prest Financial Planning, looks at a real-life case involving a HNW couple looking to tackle major Inheritance Tax challenges.

• Client Hunter tips from Nicola Watts, who looks at finding new clients and keeping existing ones engaged
• Investment Insiders talk Brexit

• Columns from leading Financial Planner Julie Lord, PFS chief executive Keith Richards, CISI head of Financial Planning Jackie Lockie, senior Paraplanner Chloe Moran and other key commentators

• DFM news and listings