The latest issue, featuring a refreshed design, includes:
• Special Report on the major challenges now facing the SIPP sector with insights from leading providers
• Investigation into how a celebrity financial adviser became a sex offender - and what happened to his beleaguered firm
• Exclusive articles and features with leading Financial Planners like Keith Churchouse, Martin Ruskin, Anna Sofat and many more
• Plus Professional Body Update, DFM Listing, Investment Insider, Columns from the PFS, CISI and lots more too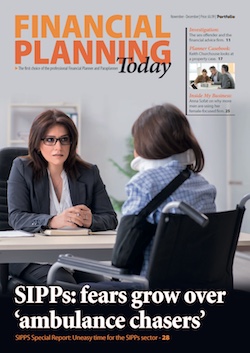 You can access the November-December issue by clicking on the buttons or front cover below

Registered subscribers to our daily e-newsletter get advance access to the magazine each issue so why not sign up now? It takes seconds and you will get early access to a valuable professional magazine. You can also sign up below.
Don't forget you can also get links to the latest stories and breaking news on our Twitter accounts @FPTodayMagazine and @FPTodayNews. We reach over 10,000 Followers a month on Twitter so Follow us to keep up to date with the latest developments.
Financial Planning Today magazine is the sister publication to the daily news Financial Planning Today website and is the only magazine exclusively designed and built for the UK's professional Financial Planners, Paraplanners, Wealth Managers and IFAs and the only one dedicated to the profession of Financial Planning. Much of the content is exclusive to the magazine and not available elsewhere.
Each issue includes valuable insights for planners, news updates, comments from top planners and experts in the profession and pages of useful information.
To view the latest issue just click on the link below.

---