The index ended January 2019 at £235,000, unchanged from the end of December 2018. 
 
The difference between maximum and minimum readings of the XPS Pensions Group Transfer Value Index over January 2019 was £6,800 (or around 2.9%).
Sankar Mahalingham, head of DB Growth at XPS Pensions Group, said: "Transfer values rose over the first half of January, suffered a sharp fall mid-month, before then increasing gradually towards the end of the month. 
"The reason for the mid-month fall was due to lower inflation expectations, with reducing gilt yields towards the end of the month bringing the index back in line with the start of month position.
"While there was some volatility observed in January, it is lower than that experienced in December 2018.  It is possible that there will be more volatility in coming months as various UK and global political events continue to unfold."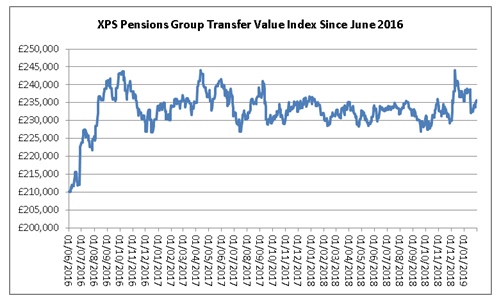 The XPS Pensions Group Transfer Value Index tracks the transfer value that would be provided by an example DB scheme to a member aged 64 who is currently entitled to a pension of £10,000 each year starting at age 65 (increasing each year in line with inflation).
Different schemes calculate transfer values in different ways.
A given individual may therefore receive a transfer value from their scheme that is significantly different from that quoted by the XPS Pensions Group Transfer Value Index.