Read latest Financial Planning Today Magazine FREE - Click Here
Financial Planning Today magazine is the premier 40-page bi-monthly magazine for professional Financial Planners, Paraplanners, Wealth Managers and IFAs. It is the only UK title produced exclusively for Financial Planners.
The latest issue (Nov-Dec 2018) is available for FREE download and includes:
• Special Report: SIPPs facing up to the threat of ambulance chasers 
• Investigation - the TV financial adviser who is now behind bars as a sex offender  
• Inside My Business: Anna Sofat of Addidi Wealth on my men are choosing her female-focused Financial Planning firm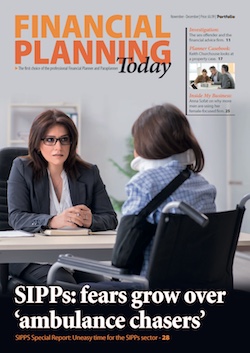 Each issue also includes:
• News Summary, Extended Cover Feature with exclusive research and comment, The Client Hunter, Planner Casebook, Inside My Business, DFM Update and Listings and Professional Body News Plus columns from leading Financial Planners, the CISI and PFS, fund managers and many other key figures. 
---
Coming: Subscribe to our digital edition  
Issue 14 (Sept-Oct 2018): Includes: Award-winning Financial Planner Warren Shute sharing his client loyalty secrets; Survey: How Financial Planners and Paraplanners select funds, DFMs unravelled and what planners really think of them, Inside My Business: A leading Financial Planner reveals how they built their practice.
Issue 13 (July-Aug 2018): Includes: Exclusive Survey on the State of the Financial Planning Profession, HNW Clients - and how to reach them: tips from leading planners. Exclusive interview with Chartered Financial Planner Alan Hudson, CEO of fast-growing adviser business AFH Group.
Issue 12 (May-Jun 2018):  The New World of Financial Planner Engagement - Includes: Cover Feature on Best Business Tech for Planners, Q&A with campaigning planner Al Rush, Client Hunter with Nicola Watts, Planner Casebook with Mike Walker of Prest and interview with Sandy Robertson of Acumen FP).
Issue 11 (Mar-Apr 2018): Planning with a Personal Touch -  Includes: Interview with Ruth Sturkey and Barry Norton about the Paradigm / Red House merger, Planner Casebook with Kim Sare, Client Hunter with Keri Carter, Inside My Business with Alan Gow of Argonaut Paraplanning and Cover Feature on Platform Selection with extensive tables.
Issue 10 (Jan-Feb 2018): Why the sun is set to shine on Financial Planners in 2018  Includes: Report from Jon Rolfe on how cashflow modelling can be more widely used, Planner Casebook with Tamsin Caine, Inside my Business with Roger Brosch of Foster Denovo and Tips from the Client Hunter.
Issue 9 (Nov-Dec 2017):  Why SIPPs are beginning to simmer  Includes: News Report from Ravi Francis of Irwin Mitchell Private wealth looking at the rise of Family Investment Companies, Professional Bodies News, Planner Casebook with Phil Billingham of Perceptive Planning and Inside my Business with Damien Rylett of Brunel Capital Partners)
Issue 8 (Sep-Oct 2017): Double whammy on pensions for planners Includes: News Report on Retirement Planning, Planner Casebook from Scott Gurd of Unividual, Client Hunter with Louise Morris of AV Trinity Chartered Financial Planners, Inside My Business with David Crozier and John Sloan of Navigator FP and Adam Byfod of Synaptic Software looks at how Financial Planners can use Artificial Intelligence).
Issue 7 (Jul-Aug 2017): Client boom defies the odds Includes: Cover Feature on Financial Planner Survey, News Report on the CISI Paraplanner Conference, Planner Casebook with Ray Adams of Niche IFA, Client Hunter with Craig Chapman of Money Plan-it and Inside My Business with Cherie-Anne Baxter of Unividual)
• Note that Financial Planning Today is a professional journal for qualified financial advisers and is not intended for consumers:
We welcome your suggestions and feedback. You can email us at: This email address is being protected from spambots. You need JavaScript enabled to view it.