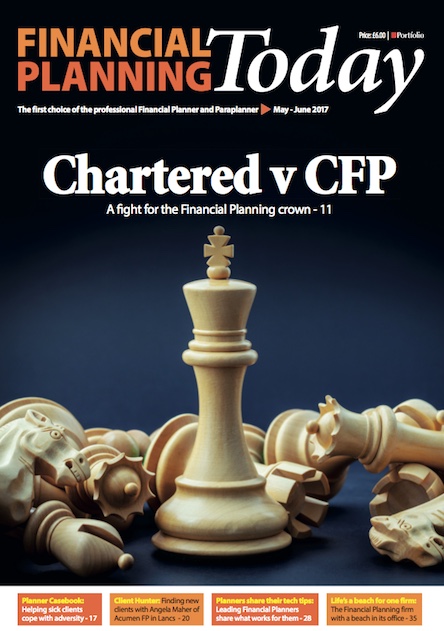 Read Financial Planning Today Magazine
Financial Planning Today magazine is a 40-page publication from Portfolio Publishing, the wealth management publisher. It is aimed at UK Financial Planners, Paraplanners, Wealth Managers and IFAs. It is the only UK magazine aimed exclusively at Financial Planners and contains a wealth of useful information and features including:
• Comprehensive Surveys
• Business Improvement Features and tips shared by other professional planners
• Detailed Investment and DFM coverage
• Comment from leading professional bodies such as the PFS, CISI and leading planners and paraplanners
• News and analysis of the Financial Planning and Paraplanning sectors including company news, job moves and much more
The magazine is available to all users of Financial Planning Today website, however only subscribers to our daily newsletter get early access to the publication. To get early access sign up below for our daily newsletter. Our daily newsletter gives you a selection of the top stories and opinion on the Financial Planning sector into your inbox each day and you can unsubscribe at any time.
How to View
LATEST ISSUE: Issue 6 - Who will win Financial Planning Crown?" http://bit.ly/2qsM1aK
PAST ISSUES:
To view Issue 5: Darren Cooke on How to Build Client Loyalty - http://bit.ly/2mt4wGH
To view Issue 4 - "Paraplanning Famine" - http://bit.ly/2k36LQa
To view Issue 3 - "My £6m Firm Began in a Bedroom" - http://bit.ly/2f0Jtas
To view Issue 2 - "Paraplanning's Bright Future" - http://bit.ly/2d21I0G.
To view the Launch Issue (issue 1) - "To Boldy Go - Financial Planning's Future" - click here http://bit.ly/2a6FjMa
• Note that Financial Planning Today is a professional journal for qualified financial intermediaries and is not intended for consumers:
We welcome your suggestions and feedback. You can email us at: This email address is being protected from spambots. You need JavaScript enabled to view it.