Read the latest Financial Planning Today Magazine - Click Here
Financial Planning Today magazine is the premier magazine for professional Financial Planners, Paraplanners, Wealth Managers and IFAs. It is the only UK title produced exclusively for Financial Planners and is published every two months.
The latest issue (Mar-Apr 2019) is available to view and includes:

• Chris Budd of Ovation Finance on why the employees are boss at his Financial Planning firm
• The Platform Report: Turbulent times in the platform sector
• Don Fraser of Capital Asset Management on finding, and keeping, great clients
• Sara Lord of Mazars on an expat challenge
• News Analysis: Major changes on the way for Financial Planning qualifications

Plus comment from Martin Bamford of Informed Choice, Julie Lord of Magenta, Mark Polson of the lang cat, Keith Richards of the PFS, Jacqueline Lockie of the CISI, editor Kevin O'Donnell, Jesse Cohen of Investing.com, Stephen Findlay of BondMason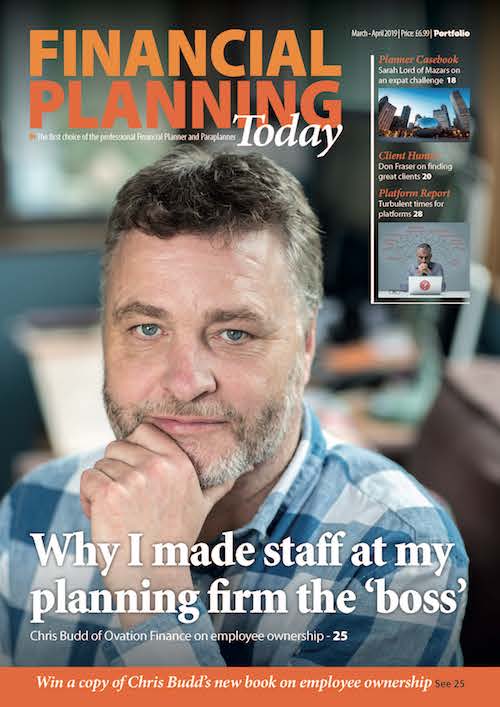 Each issue also includes:
• News Summary, Extended Cover Feature with exclusive research and comment, The Client Hunter, Planner Casebook, Inside My Business, DFM Update and Listings and Professional Body News Plus columns from leading Financial Planners, the CISI and PFS, fund managers and many other key figures. 
---
Coming Soon: Subscribe to our digital edition   
• Note Financial Planning Today is a professional journal for qualified financial advisers and is not intended for consumers:
You can email us at: This email address is being protected from spambots. You need JavaScript enabled to view it.