Chinese entrepreneurs led the way as billionaires there added just over £1 trillion to their wealth in 2017, the greatest annual increase ever, according to a joint report from UBS and PwC.
Among other key findings:
• Chinese billionaires increased in number from 318 in 2016 to 373 in 2017. The growth rate in the Asia Pacific region was 32%;
• China created two new billionaires a week and Asia created more than three billionaires a week
• In the Americas, wealth increased slower than the global rate at 12% - to £2.17 trillion but this region still boasts the biggest wealth concentration from the tech industry by far
• Currency appreciation saw Western European billionaires' wealth grow by 19% but the number of billionaires rose by just 4 per cent to 414
• 11% of billionaires worldwide are female
The report ,drawing on UBS and PWC's worldwide client network and inhouse data, forecasts a major 'wealth transition' over the next 20 years as older billionaires die off and pass on wealth to the next generation.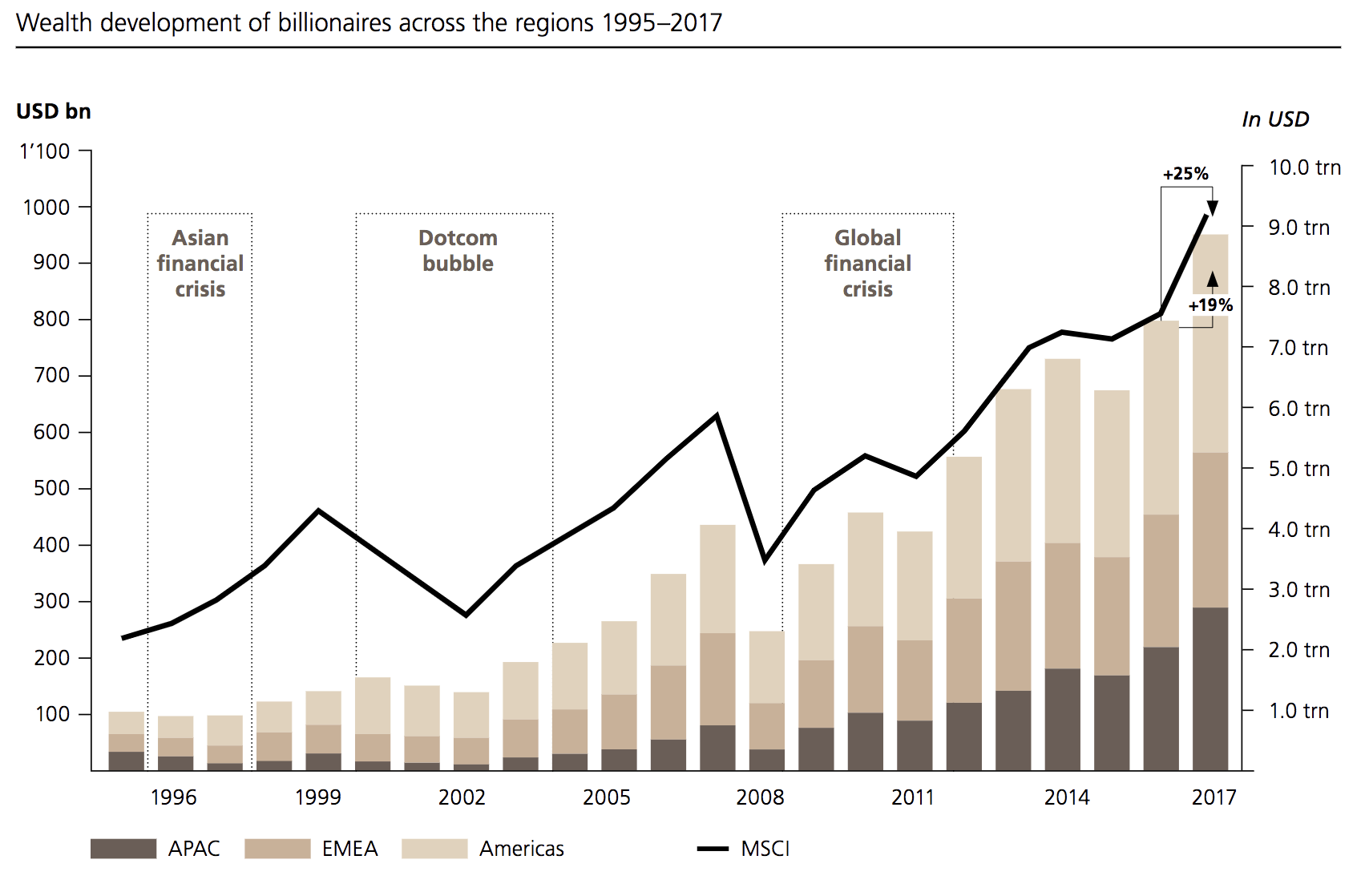 Source: UBS-PwC Billionaire Report
The findings were published today in UBS and PwC's joint, Annual Billionaires Insights report: New Visionaries and the Chinese Century.
Josef Stadler, head of ultra high net worth at UBS Global Wealth Management, said: "China's vast population, technology innovation and productivity growth combined with government support, are providing unprecedented opportunities for individuals not only to build businesses but also to change people's lives for the better."
"We are experiencing a new wave of entrepreneurship worldwide, with billionaires at the vanguard of innovation. They are creating jobs and prosperity, but their impact goes beyond economics.
"A new generation is emerging, and they see an opportunity to tackle some of the greatest environmental and societal challenges facing humankind."