Mr Budd talks about his Bristol-based company's journey towards employee ownership and the potential benefits for other Financial Planning firms - as well as the challenges.
The March-April 2019 Issue of the magazine also features a chance to win one of 3 copies of his new book on how to create an employee ownership structure. Details are in the magazine.
The Inside My Business special with Chris Budd is just one of numerous features and articles in the latest packed issue of the magazine which is designed exclusively for Financial Planners, Paraplanners, Wealth Managers and IFAs. The digital edition is now available to read here:

The latest issue also includes:
• The Platform Report: Turbulent times in the platform sector
• Don Fraser of Capital Asset Management on finding, and keeping, great clients
• Sara Lord of Mazars on an expat challenge
• News Analysis: Major changes on the way for Financial Planning qualifications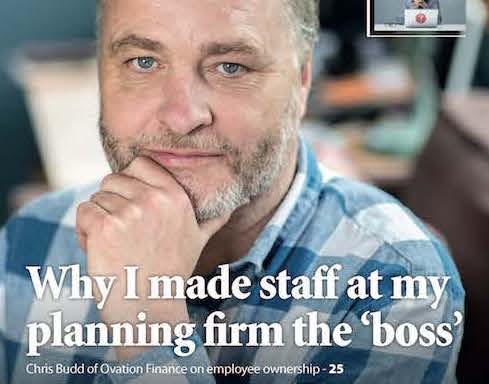 Plus comment from leading experts including Martin Bamford of Informed Choice, Julie Lord of Magenta, Mark Polson of the lang cat, Keith Richards of the PFS, Jacqueline Lockie of the CISI, editor Kevin O'Donnell, Jesse Cohen of Investing.com, Stephen Findlay of BondMason and much more.
Regular features include the popular News Summary (covering stories over the past month you may have missed), Job Movers, Professional Body Update, 200+ DFM Listings, Investment Insider, columns from investment experts on what's moving the markets and lots of other useful professional and business content.
To view the magazine just click on the link here - Financial Planning Today - or the button above.
• Remember subscribers to our daily newsletters get advance access to the magazine so sign up today  below to be kept up to date on the magazine.