The new publication features exclusive content, including contributions from leading figures in the worlds of Financial Planning, Paraplanning and Wealth Management, plus features and insights produced by experienced financial journalists.
You can read it HERE or click on the cover below.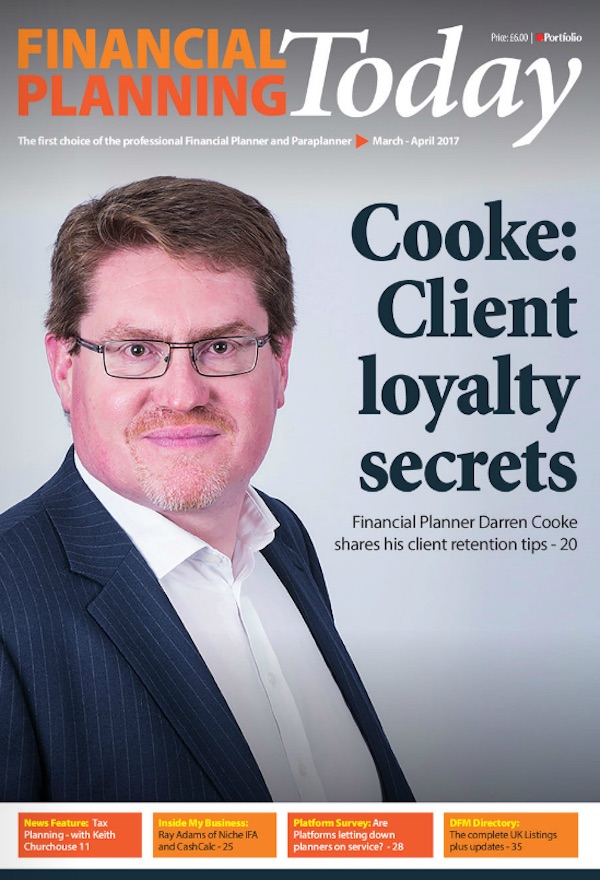 Financial Planning Today's latest issue highlights include:
• A Special Report examining platforms and gripes about poor service levels
• Chartered Financial Planner Darren Cooke gives his client loyalty tips
• Columns from high profile Financial Planner Julie Lord, PFS chief executive Keith Richards, CISI deputy head of Financial Planning Jackie Lockie and leading Financial Planner Martin Bamford
• Plus, popular regular features including Planner Casebook, Inside My Business with Ray Adams of CashCalc, Financial Planning and Paraplanning news and much more
• Special Offer for FP Today Readers from CashCalc
For editorial enquiries please contact: This email address is being protected from spambots. You need JavaScript enabled to view it.. For advertising enquiries, including recruitment advertising, please contact: This email address is being protected from spambots. You need JavaScript enabled to view it. or 01895 678629.
Feedback on the new magazine has been excellent with well over 4,000 people reading the first four issues and the number rising steadily.
Financial Planning Today Publisher and Editor Kevin O'Donnell said: "We're delighted to make available issue 5 and we hope the content will be invaluable to professionals. There is a wealth of insight, expert knowledge sharing, news and comment plus many busness tips and ideas to help Financial Planners do an even better job and build on their professionalism.
"We have designed Financial Planning Today magazine to be an essential publication for all professional Financial Planners, Paraplanners and Wealth Managers and we'll be announcing some exciting developments for 2017 soon."
For editorial enquiries please contact: This email address is being protected from spambots. You need JavaScript enabled to view it.. For advertising enquiries, including recruitment advertising, please contact: This email address is being protected from spambots. You need JavaScript enabled to view it. or 01895 678629.
• To read the latest issue click on the front cover above or go to our magazine back issue section via the menu on the home page.