More than 80 DFM firms are detailed in the latest publication of a new directory, brought to readers by Financial Planning Today magazine.
The listings have been created for use by Financial Planners, with the most up-to-date research from Defaqto.
The sixth issue of the magazine, with the tables, is available first to our email newsletter subscribers and can be viewed on page 35 onwards.
If you have not already signed up to our daily newsletter, you can receive early access to the new magazine by signing up now below:
Three types of discretionary proposition are listed:
• Bespoke portfolio services
• managed portfolio services where custody of assets is facilitated through the discretionary firm
• managed portfolio services where custody of assets is with the platform.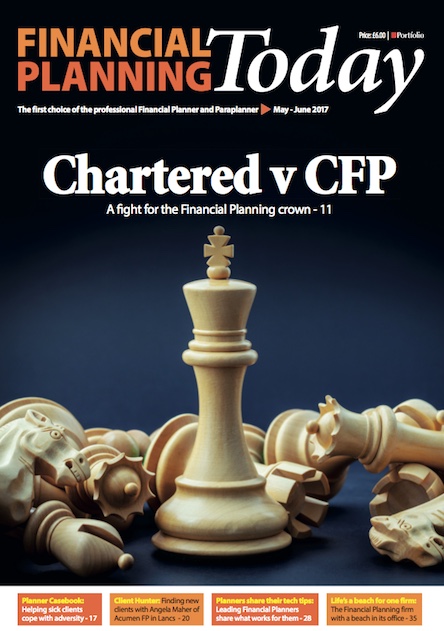 Defaqto's Investment Conference, in London, on 23 May, will showcase a number of leading asset managers and discretionary firms. They will look to introduce new investment ideas that are appropriate for the current environment. The strategies presented will be suitable for accumulating clients and also for retirees in decumulation, defaqto said.
The tables are part of a new investment section including detailed Managed Portfolio listings plus investment news and analysis.
The new publication features exclusive content including contributions from leading figures in the worlds of Financial Planning and Paraplanning plus features and insights produced by experienced financial journalists in London.
Financial Planning Today's 6th issue includes:
• A Special Report examining the Chartered vs Certified Financial Planner debate
• Financial Planner Angela Maher gives her client loyalty tips
• Columns from high profile planner Julie Lord, PFS chief executive Keith Richards, CISI head of Financial Planning Campbell Edgar
• New Investment and DFM section with 180+ DFM providers listed plus DFM updates
• Plus, Planner Casebook, Inside My Business with EQ Investors, Financial Planning and Paraplanning news and much more
For editorial enquiries please contact: This email address is being protected from spambots. You need JavaScript enabled to view it.. For advertising enquiries, including recruitment advertising, please contact: This email address is being protected from spambots. You need JavaScript enabled to view it. or 01895 678629.