Speaking exclusively in the latest edition of Financial Planning Today magazine Mr Ruskin gave his advice on finding and keeping clients.
Asked how he finds his clients Mr Ruskin said: "Finding clients shouldn't be that difficult – there are definitely enough to go around!
"But the key is finding the 'right' client and, arguably, you have to work with a few that aren't 'right' for you to determine this.
"I'm much clearer now on who I work best with and provide most value to and, guess what, once you have worked this out, they will stay because both you and they get something out of the relationship."
Get to understand and know them.
And, commenting on keeping those clients, he added: "Be genuinely interested in their lives, take the complexity out of the money stuff and be consistent and honest. "Being technically proficient and professional should be a given but this will not make you stand out and keep clients.
"But if they trust you and know that their interests come before your own and the firm you represent, then they will stay."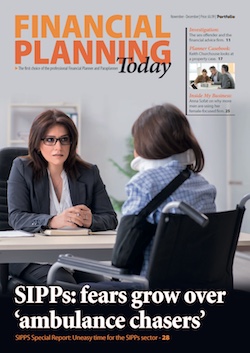 You can access the November-December issue by clicking on the buttons or front cover above.

Registered subscribers to our daily e-newsletter get advance access to the magazine each issue so why not sign up now? It takes seconds and you will get early access to a valuable professional magazine. You can also sign up below.
Don't forget you can also get links to the latest stories and breaking news on our Twitter accounts @FPTodayMagazine and @FPTodayNews. We reach over 10,000 Followers a month on Twitter so Follow us to keep up to date with the latest developments.
Financial Planning Today magazine is the sister publication to the daily news Financial Planning Today website and is the only magazine exclusively designed and built for the UK's professional Financial Planners, Paraplanners, Wealth Managers and IFAs and the only one dedicated to the profession of Financial Planning. Much of the content is exclusive to the magazine and not available elsewhere.
Each issue includes valuable insights for planners, news updates, comments from top planners and experts in the profession and pages of useful information.
To view the latest issue just click on the link below.

---