The pair, from Croydon and inner London, were chosen as winners by NS&I's random number generator, ERNIE.
A woman from Inner London, who holds the maximum amount of £50,000, has held her winning Premium Bonds since July 2005.
A man from Croydon holds £20,000 in Premium Bonds, which have been held since 2002.
Jill Waters, NS&I's retail director, said: "What better way to start the New Year than to find out ERNIE has treated you to a Premium Bonds prize.
"Whether it's a £25 win or landing the £1m jackpot, it's great to see that Premium Bonds continue to surprise and delight the millions of people who hold them.
"Premium Bonds continue to evolve, and in 2019, adults other than parents and grandparents will be able to buy Premium Bonds for children, and by the end of March 2019, we will have reduced the minimum investment to £25 – allowing more people to start a savings habit."
Winners of the big prizes get offered a financial advisory service, by NS&I, delivered by Shropshire-based Matrix Capital.
The firm's other owner/director, Chartered Financial Planner Gary Matthews FPFS, is a pension transfer specialist, holding the Advanced Diploma qualifications in Pensions and Pension Drawdown. He is also a STEP member.
It is up to each monthly Premium Bonds jackpot winner to decide whether to accept and then they decide if they wish to take up and pay for other services from the firm.
Matrix Capital has been the service provider since 2014 and the new contract began on 1 April for three years, with an option to extend for two additional years.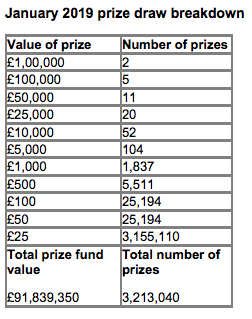 In the January 2019 draw, a total of 3,213,040 prizes worth £91,839,350 will be paid out.
There were 78,719,436,565 eligible Bonds for the draw.
Since the first draw in June 1957, ERNIE has drawn 426 million winning prizes, to the value of around £19bn.