FOS says pension transfers are "a major concern" and said that while the ombudsman service "can't provide a 'tick-box' answer to compliance, it can share with advisers what it takes into account when looking at these complaints."
The biggest areas of complaint on transfers were delays in advice and suitability.
While transfer complaints are a relatively small proportion of overall pension complaints they have topped 300 since the Pension Freedoms were introduced in 2015, says the FOS.
 
When it comes to transfer complaints the FOS revealed that it will ask, among other things, if the adviser really "knows their customer" and all the relevant circumstances; if they understood what their customer was trying to achieve; and, if there were any other ways they could have helped their customer get what they want from retirement.
And, whether or not a transfer goes ahead, from the cases FOS sees, it is important that financial advisers keep their customers up to date and "manage expectations" through the process, says the FOS.
 
FOS says that since the introduction of the Pension Freedoms, it has received just under 15,000 complaints involving pensions.
Of this figure, 1,700 were about Pension Freedoms and 318 of these complaints were about DB transfers.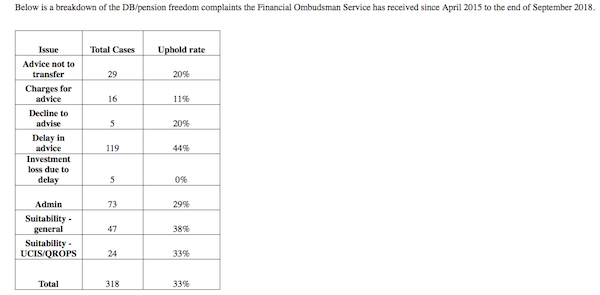 (Source: FOS)
Caroline Wayman, chief ombudsman and chief executive of FOS, said: "Most financial advisers I meet – and indeed most financial advisers – haven't ever had a complaint.
"As long as advisers continue to treat their customers fairly, it's likely to stay that way. 
 
"As ever, the challenge for advisers isn't just to know the rules, but to apply them to real lives – understanding where people are coming from, their hopes for the future, and what really matters to them.
"We'll continue to share our insights from the complaints which we see."